AROUND THE NET WITH DEANO! Volume 1
by "The Shooter" Dean Malenko

BACK FROM THE DEAD BOURBON-INDUCED COMA, MALENKOMANIACS! Recently, while perusing the many fine articles on WWF.com, I stumbled across this little newsbit about the recent debut of third-generation WWF Superstar Randy Orton, who you SM4RKZ may recall to be the son of WWF luminary "Cowboy" Bob Orton! I couldn't help but add to this little piece of investigating reporting, so here you go! My comments are in Iceman Blue!

---

Orton could be a great one
by Phil Speer

No he couldn't, unless he changes his name! I mean, "Randy Orton" is not exactly a name destined for superstardom! It sounds like the Dr. Seuss elephant with a hard-on!

It's unfair perhaps to compare anyone to The Rock, but Randy Orton's life up to this point has been noticeably similar.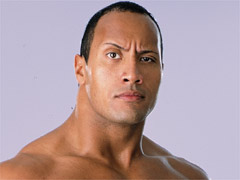 You stupid WWF.com readers must have the eyesight of the love child of Stevie Wonder and Helen Keller if you can't see the uncanny similarities between the offspring of a Samoan lady and a big black mofo, and the son of a 90 year old cowboy! They're obviously the spitting [HOCK-TOOEY] images of each other! I mean, photos don't lie, folks! I'm not even sure I named the files correctly, so befuddled was I! I can only hope!

Orton is the only third-generation World Wrestling Federation Superstar, besides The Rock. Orton's grandfather, Bob Orton Sr., wrestled for Vincent J. McMahon (father of the current owner) in the WWWF. Orton's dad, "Cowboy" Bob Orton Jr., competed on the first three WrestleManias. Hogan vs. Andre meant NOTHING compared to Orton vs. Whoever His Opponent Was, And Slag Off If You Think I'm Gonna Bother To Check!

Much like The Rock, Orton grew up in the business.

"I remember sitting backstage," Orton told WWF.com. "I remember sitting back there with Mr. Fuji, Hillbilly Jim, Greg Valentine. Bret Hart would watch me while my dad wrestled.

HA HA HA HA as if there weren't enough reasons to laugh at Bret Hart these days, now his ugly past as the Excellence of Child-Rearing has turned up! Bret Hart: BABYSITTER TO THE STARS! "The best there is, the best there was, and---goddammit Randy, did you soil your HuggiesTM Pull-Ups Training Pants again?!" And just in case little Randy is too much of a handful for the Hitman, we have our backup team of Mr. Fuji, Hillbilly Jim and Greg "The Hammer" Valentine! Thank you for being there when my Cowboy pappy wasn't, evil Japanese man, redneck, and dumb overweight blonde dude! YAY, STEREOTYPES! What a childhood! It's a wonder little Randy never had the urge to pack an AK-47 on the playground, with an upbringing like this!

"I saw how much fun my dad was having, and I wanted to do that."

"AAAAAAAGGGGGHHHHH STOP THE MATCH HE WON'T STOP BEATING ME I'M BLEEDING FROM EVERY ORIFICE IN MY BODY AND I CAN'T FEEL MY LEGS" What FUN! Yeah, professional rasslin' is just a fluckin' bed of roses, Cowboy Junior! TOOL! (Man, it feels good to say that again!)

Less than four weeks after turning 22 (his birthday is April 1) DUHHH HURRR HURRR HURRR THANCK EWE WWF.COM, I R MATH STOOPID, Orton made his World Wrestling Federation television debut on Thursday's SmackDown!, defeating Hardcore Holly. "Defeat Sparky Plugg? CHECK! Things can only go up from here!" *cough* The Rock debuted at the 1996 Survivor Series, at age 24. With his chiseled physique and boyish good looks, Orton immediately won the admiration of the women in the crowd, much like The Rock did years ago.

"It's a compliment," Orton said, referring to comparisons to the People's Champion. "It's one of the best compliments I can get."

Orton, who is 6 foot 4 and 245 pounds, added that he has watched tapes of The Rock extensively.

"If I had to pick out guys I watch for technique," Orton said, "it'd be Rock, Billy Gunn, Lance Storm and a couple of others."

*Ahem*...One of these things is not like the others, one of these things just doesn't belong... (It's all good though, as I hear A. Coupleofothers is a veritable master of ring psychology! He's a HOSS!)

On Oct. 24, 1999, Orton and his father attended a Federation non-televised event in St. Louis -- where the Orton family has lived since Randy was in first grade (born in Knoxville, Tenn., Randy has also lived in Hartford, Conn.; Baton Rouge, La.; and Lexington, Ky.). Thanks, Phil SPEER (RARRR GRAHRRR WHO'S NEXT?!?!), I could not have survived one nanosecond longer without this vital nugget of information! That night, The Rock took on Val Venis, and "Cowboy" Bob introduced his son to Federation agents Tony Garea and Jack Lanza. It's another similarity: The Rock got his foot in the door when his father, Rocky Johnson, made a phone call to a Federation agent.

Similarly, I got my foot in the door with the WWF in June of 1999, when I was looking for a way out of the cesspool we used to know as WCW! I visited the Titan Towers hoping to get my name known around the front office, but Vince McMahon thought I was a toilet brush salesman and slammed the door to his office on my foot (understandable, as solicitors are a pet peeve of his!) Dammit, did he HAVE to ruin my $19.99 penny loafers I got at Fayva?! But ANYWAY! I remember getting the opportunity to enter the WWF in early 2000, when I told Vince McMahon "Remember that dead guy who thought he was Russian? Morris or whatever? I'M HIS SON!" And the rest, as they say, is history (though the easily forgettable kind)! Please buy my "22 Years of Deano Machino: Jakked 4 Life" T-shirts when I manage to save up the money to have them printed up at Hot Topic!

Orton had always thought about pursuing sports entertainment as a "possibility" when he was a child; in high school -- Hazelwood Central High in St. Louis, where he played basketball and wrestled -- he decided it was what he wanted to do.

Bob Orton made the introductions, but Randy Orton got himself hired. On Dec. 16, two months after meeting Garea and Lanza, Orton was invited to Stamford, Conn., for a tryout with trainer (and Byte This! co-host) BYTE THIS!!! PLEASE WATCH!!! OR LISTEN OR HOWEVER YOU EXPERIENCE BYTE THIS! SO LONELY (You know, nothing makes me wanna tune into a show more than a veiled reference to oral sex gone wrong!) Dr. Tom Prichard. He hadn't had any formal instruction at that point. "My dad had fooled around with me JESUS TAP DANCING CHRIST that's nasty, Randy! Tell it to a fucking therapist, not me! -- (showing me) chain wrestling, holds and techniques," Orton said. But he must've made a good impression. Prichard and his brother/agent Bruce sat down with Randy, then just 19, and decided to sign him to a developmental contract. I can remember refusing to work with him because he smelled of rotting cattle!

"I got my first paycheck on January 1, (2000)," Orton said. Yes, even though I had yet to be hired by WWFE at the time! SHUT UP, I AM FUNNY AND GET ALL THE BITCHEZ

Orton is a product of the Federation's modern-day developmental system, having trained full time for the last two years at Ohio Valley Wrestling in Louisville, Ky. It took The Rock nearly two years after his Federation debut to really blossom into a star. Perhaps partly because of the time it took "Great One" to find his niche, Federation officials have been more patient with hot prospects like Orton.

Dreadfully sorry, Randy! We should have called you up sooner, so please forgive us if we've been focusing more on unimpressive, underdeveloped turkey-necks like Brock Lesnar!

After those two years at OVW -- during which time Orton also competed in five dark matches for the Federation as well as one match taped for the international edition of HEAT -- the Federation called him up last October. He had been wrestling in dark matches since then, waiting to make his television debut, which finally happened on Thursday.

Appropriately, he ended up on the SmackDown! roster, along with The Rock and Chavo Guerrero Jr. (a third-generation competitor, but the only member of his immediate family to make it to the Federation).

How soon we forget one Eduardo Guerrero! Man, get hammered and crash into some guy's gate in the wee hours of the morning and the whole world comes down on you! (Yes, I realize the possibility that Eddy and Chavo are not blood relatives or whatever, but damned if I'm going to check that, too! Those wetbacks spawn like crazy, man! I think they're capable of reproducing asexually, if you ask me! They're like amoebas with sombreros!)

Orton is walking proof that the developmental system works. Conversely, Darren Drozdov is non-walking proof that the WWF Medicare system works!

"But you have to make it work for you," Orton said. "You can't just rely on what you learn in practice. You have to take it home with you. You have to take it upon yourself to watch tapes. But I did! I watched 'em all --- Debbie Does Dallas, Deep Throat, Santa's XXXmas Enema, Splooge All Over My Face and Anus IV... I saw 'em all! How come *I* never got a push?!

"I learned the most from watching tapes, especially old tapes -- of my dad, Ricky Steamboat, (Don) Muraco, (Roddy) Piper, Randy Savage, Dynamite Kid ... " Oh, THOSE kind of tapes...

Clearly, Orton is a student of the game. You could literally see Hardcore Holly's handprint on Orton's chest an hour after their match as Orton scrambled around the backstage area, asking everyone -- fellow superstars, agents, even WWF.com reporters -- for critiques on his performance.

That reminds me of the time I helped train the women wrestlers to prepare for the grueling WWF schedule! You could literally see my handprint on Lita's sweet, sweet can as I scrambled around the backstage area asking everyone "Did you see me mackin' and smackin' on that fiiiiiiiiine piece of izzass?!" Minutes later, you could literally see Lita's handprint across my face as she scrambled around the backstage area, telling everyone "I am NEVER working with that fucking pig again! Dirty old coot!" I think she wants me! I'll be sure to visit her in the hospital now that she got Drozzulated on the set of whatever show she was doing a guest spot on!

Can he be anywhere near as successful as The Rock, or his dad for that matter? FOR GOD'S SAKE, IT'S "COWBOY" BOB ORTON Only time will tell, but he certainly won't fail for lack of effort. And he got off to a running start. In addition to his match with Holly, he taped his first backstage vignette -- with Stacy Keibler ... and Vince McMahon.

"Obviously I was nervous, but more than anything (I felt) the adrenaline," he said. "I've never felt the adrenaline like I've felt today. Vince McMahon gave me the shot. I'm very grateful to him for giving me this chance.

"I want to make everyone proud -- not just my father, but the boys, the office (and) Mr. McMahon. If I can show them that I can be an eighth as good as my dad was, I'll be pretty satisfied." I'll say it again...YOU'RE TALKING ABOUT "COWBOY" FRICKIN' BOB ORTON FOR CONFSHOOSUS'S SAKE! If you're an eighth as good as he is, you MIGHT be up to the level of wrestler Darren Drozdov is in his current state! (BOO-YAH, I am a THREE TIME THREE TIME THREE TIME Droz Joke Maker! GO ME!)

---

And that's the end of the article! It's just as well, as I can no longer stand to read this gobshite any longer! So I'm gonna get blitzed, watch Nick at Nite, and lick the TV whenever Carla from Cheers in onscreen! Later, toolz!

- I'm "The Shooter" Dean Malenko! That's my story and I'm stickin' to it!