FOREWORD by "The Shooter" Dean Malenko: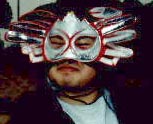 Konnichiwa! Japan wrestler Gran Naniwa I am! Translation to American, Gran Naniwa Japanese is for "Grand Crab!" Which is what am I! Very! Firsthand, I like to state that American wrestling is putrid garbage! Have I that right? My English perfect is not yet! I am trying to say my point across that American wrestling is utter trash! That only mindless retard person would be entertained by crap it is! Am I good with statement now? Good! Happy! HAI!
I am allowed to introduce myself! To all readers American! Now! My name is Gran Naniwa is my name! I am superb wrestler Japan! Gimmick mine is that I am GIANT CRAB! Fight for TRUTH! And CRABS!! And JUSTICE!!! I am wear my heroic crab mask when do battle I do in the ring against wrestlers other! Sexy am I also! Obvious you can see that as from my picture up above!
Since because honorable Dean-san is not have enough time to write column for all you dumb dogs, he request from me that I write guest column for him for great big American site, WrestlingSlashWrestleCRZ.com! .org! .net! Hai! He tell me it is run by, I quote, "dirty hippie" Christian Robert Zipperman-san! I know not who he is, but anyways!
So you are probably wonder what point of this column is! Now I tell you that I am dish out BIG WRESTLING NEWS to you dumb Americans! Like fat, overfed white devils Dave Seltzer and Scott Teeth and Rick Scarface, I tell you details all of inner working of wrestling business! You are no doubt wishful for new news regarding your American garbage wrestle! Well, your incessant whining now you must stop, like complaint about great damage our country do to your weak sissy Pearl Harbor! I am master of news now, so you bow down to me and take to what I give to you, be it either American trash or superior Japan news! So to appease for you apple pie eating idiots, I tell you news of wrestling! Now! News!
---
BIG FLASH NEWS! OF BIG NEWS!!
by Gran Naniwa!
---
!!! HONORABLE GREAT SASUKE IS MOVIE DIRECT STARRING ROLE !!!
See as you can from photograph picture, honorable Japanese wrestle superstar THE GREAT SASUKE is direct and star in his own film feature!
Here click for Sasuke's previous filmography!
!!! GRAN NANIWA-SAN (ME) IS TEAM TAG WITH "BAD BIG AMERICAN BIKER-ASS ROLLIN" UNDERTAKE !!!
rumor is not confirm yet, I must (calling undertaker, taker tells him to screw off)
!!! HULK HOGAN IS BIG DUMB ORANGE AMERICAN DEVIL! IS! !!!
!!! POSE FOR HONORABLE PLAYGIRL MAGAZINE IS SUPER DELFIN !!!
If a woman was I, then very much sexing I would like to have with honorable Delfin! What's that say you?... UP SHUT YOUR FACE!! Homogaysexual I am not, saying I am merely that if I was female, intercoursing with Delfin would be very enjoyable! Delfin attractive he is in a very rugged, masculine way! Platonic only, nothing mean by comment, so SHUT UP!!!! We very change subject! See that I can this is a HOT BUTTON ISSUE with you white devils!!
SHUT UP! UP! SHUT YOU UP!!!

E-mail me care of Mr. Marenko-san! Both us will appreciated feedback from you! As he like say, "Flappy trap makes happy Jap!" I know not what that means!